On Saturday, March 14, the TLC Foundation will host our second annual cocktail party, charitable casino night and auction at the Regency Hyatt in Greenwich, CT. Our Share the Love fundraiser is an opportunity to celebrate our success during a fun-filled night at a stunning location. We hope you will join us!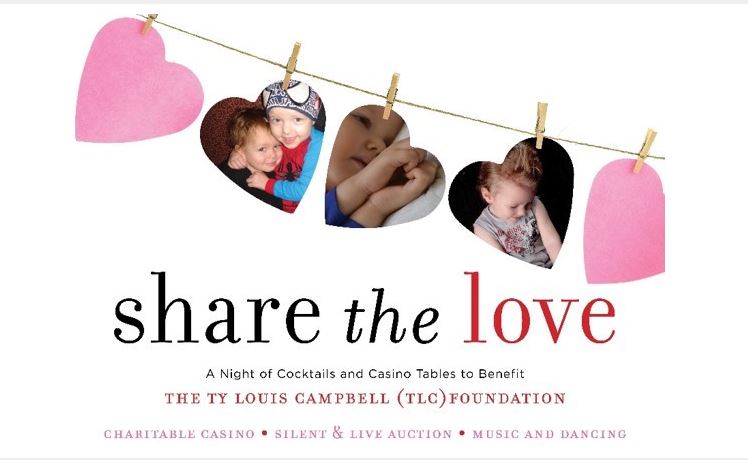 WHAT: SHARE THE LOVE Fundraiser for Childhood Cancer Research
A night of dinner, dancing, cocktails, casino tables and a charitable auction
WHEN: Saturday, March 14, 2015 7:00PM – 12:00AM Midnight
WHERE: Regency Hyatt, Greenwich, CT
For those interested in staying overnight, a block of rooms for TLC guests has been reserved at a discounted rate. CLICK HERE to make an overnight reservation at the hotel.
www.2015sharethelove.eventbrite.com ($150 per person after January 19th)
About The Ty Louis Campbell Foundation:
Founded in September 2012, The Ty Louis Campbell (TLC) Foundation is a volunteer-run nonprofit organization that funds innovative research and technology specifically geared toward the treatment of the deadliest childhood cancers. The organization seeks less toxic, more effective treatments that are specifically designed for children fighting cancer. www.theTLCfoundation.org.