HEINEKEN USA recently co-hosted a Westchester Green Business Challenge event on September 3 at HEINEKEN USA'S headquarters in White Plains.
The Westchester Green Business Challenges encourages companies throughout Westchester County to improve their office performance by going green. SL Green Director of Sustainability, Jay Black, and HEINEKEN USA SVP of HR, Pepe Velasquez, discussed how their landlord/tenant relationship helped create a green office which benefits both the environment and employees. Jacqueline Overton, Engagement Manager at HEINEKEN USA, also explained how HEINEKEN USA's office took the necessary steps to become one of the most environmental-friendly companies in Westchester County.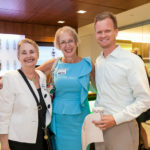 About Westchester Green Business Challenge
The Westchester Green Business Challenge (WGBC) is a 501c3 non-profit organization. Our mission is to educated and inspire all Westchester County organizations to move down the path toward environmental sustainability while improving performance and saving money.
About HEINEKEN USA
HEINEKEN USA Inc., the nation's premier beer importer, is a subsidiary of Heineken International BV, which is the world's most international brewer. European brands imported into the U.S. include Heineken Lager, the world's most international beer brand; Heineken Light; Amstel Light, a leading imported light beer brand; Newcastle Brown Ale, the leading imported ale in the United States; and Buckler non-alcoholic brew. HEINEKEN USA is also the exclusive USA importer for the Tecate, Tecate Light, Dos Equis, Sol, Indio, Carta Blanca and Bohemia brands from Mexico. For a safe ride home, the company supports downloading the Curb or Uber applications on your smartphone. Please visit www.EnjoyHeinekenResponsibly.com.